ST. ANDREW'S, DAWSON STREET, CROOK METHODIST / UNITED REFORMED CHURCH
Dawson Street, Crook, Co. Durham. DL15 8NH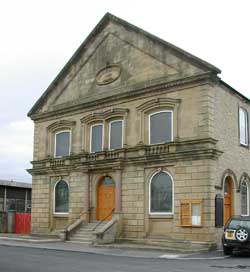 St. Andrew's Dawson Street is a Local Ecumenical Partnership (Methodist & United Reformed Churches) and meets in the Methodist Building in Dawson Street.
This is a typical Methodist Church which holds about 200. The premises, built in 1868, are Grade II* Listed. They have recently been refurbished and are now warm and bright and accessible to all.

SUNDAY SERVICES:
The services incorporate both Methodist and United Reformed features, with different styles of service, e.g. Café Style and All Age Worship.
10.30am: Morning Worship
6.00pm: Evening Worship.

You will find a welcome here and we serve tea / coffee & biscuits after each service when there is a chance to chat to other people and catch up on Church Family news.

WEEKDAY ACTIVITIES:

Monday 2.00pm; Womens Own Meeting and Mother's Union - on the first Monday at St. Catherine's C of E and third Monday of the month at St. Andrew's.
'Young in heart' members who enjoy meeting each other and having a varied programme of speakers.
The weekly meeting finishes with tea / coffee & biscuits and members also enjoy occasional outings for tea.
Tuesdays:
1st Tuesday: Prayer Meeting:9.30am
10.00am: Coffee Morning & Chat.This Coffee Morning is held on Crook Market Day and everyone is welcome to come.
7.15pm – 9.00pm: Mothers Club(2nd & 4th Tuesdays).
A long running group of women who first met as young mothers. The group now extends over a wider age range. They enjoy a variety of speakers and demonstrations, have fun together, with refreshments at the close of the evening.
Wednesdays:
09.45 – 11.30am: Carers and Toddlers Group.

For 0 – 2 year olds, during term time only. Cost £1.00 per child.
Toys, activities and books to share with your child and an opportunity to meet and chat over refreshments with other parents and carers
5.00 – 6.00pm: Rainbows (ages 5 – 7).
6.00 –7.30pm: Brownies (ages 7 – 10).
7.30 – 9.00pm: Guides (ages 10 – 14).
These groups enjoy a wide ranging programme of fun and activities which aim to help develop life skills.

For further information contact Mrs Christine Jackson : Tel. 01388 767643.

Alternate Wednesday evenings 7.30pm: House Group:
New members are always welcome.
1st Friday of the month, immediately following school : The 'C' Club for crafts and cakes. All children and young people welcome, accompanied by an adult.
The church premises are also used by various community groups and enquiries are always welcome from other groups wishing to use the premises.
Flower Festival videos.

Website:Crook Dawson Street Methodist URC


For further information about the church or baptisms / weddings / funerals:
please contact:
Rev Chris Humble (Methodist): Telephone 01388 766495 E mail Click Here.
Rev Ray Anglesea (URC): Telephone 0191 3844402 E mail Click Here.