BYERS GREEN METHODIST CHURCH
High Street, Byers Green, Co. Durham. DL16 7PQ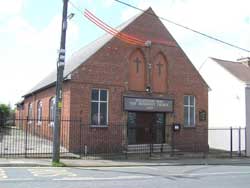 Byers Green Methodist Church was built in 1885 and renovated in 2000.
It is situated opposite the Village Green.
Sunday service at 10.00am
Messy Church 3.30 - 5.00pm in the church, on the 2nd Thursday of each month.


For further information about the church or baptisms / weddings / funerals:
Please contact Rev Christopher Humble.